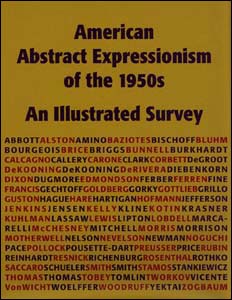 American Abstract Expressionism of the 1950s: An Illustrated Survey
Edited by Marika Herskovic
New York School Press 2003
"Researchers will seek out this well designed selection. Recommended for American art museum, academic, art school and large public libraries."
— Library Journal, August 2003.
"This excellent publication builds on the earlier [above] publication, New York School Abstract Expressionists: Artists Choice by Artists. It has broadened the scope to include artists from throughout the U.S., rectified...omission of African American artists...and concentrated on 88 artists... Excellent layout and superb photographs. Highly recommended".
— CHOICE (National Association of College Libraries), August 2003.
About the Editor
Marika Herskovic, Ph. D, received her MSc. and Ph. D. from the Graduate School of Arts and Science of New York University.
She has produced 27 videos on the art and lives of the artists of the New York School. These videos, repeatedly shown on cable TV, were included in "Art on Screen - a joint venture of the Metropolitan Museum of Art and the J. Paul Getty Trust." She has hosted numerous video taped artist seminars and spent the last two decades documenting the New York Painting and Sculpture Annuals, the participating artists and their art.
She edited New York School Abstract Expressionists: Artists Choice by Artists, published by New York School Press, 2000.
ISBN: 0967799414. 2003.
Hardcover, 9x12 inches,
372 pages, index,
176 full page color illustrations.